The perfect venue for gatherings of loved ones, families and friends.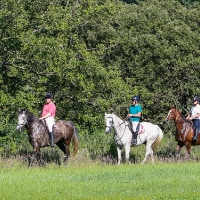 The Munny Trail has been featured in the Irish Independent as one of Ireland's Top Equestrian Holiday venues.
The Old Forge Glamping is a beautiful glamping venue set in the Wicklow hills.
Nestled beside a small woodland and overlooking Lugnaquilla, we have 3 Yurts, a safari tent, a shepherd's hut, a log cabin and a self-catered three bed holiday home which altogether accommodates a gathering of up to 30 guests.
The setting is what makes the Old Forge Glamping so special. The glamping is suitable for a group looking to celebrate or just spend time together. We have several hang out areas in including our secret bar in the woods! There is also an old coach house which has been converted in to a camping kitchen.
The Oak Forest
We have set up a 12 km x-country path with heaps of fences en-route of which all are optional. The Red Trail provides some easy and challenging options including banks, ditches, fly fences, steps and streams for the horse owner who wants to bring their horse glamping too.
Join us for our fantastic ride out and keep your horse overnight in one of our stables or walled garden paddocks, Or take a spin on the 5km yellow trail, ideal for lead rein riders.
Kids Fun on Site
We love when children visit the glamping site here. As we are set on an old Georgian farm, the children enjoy playing and the glamping is set well back from the road affording the parents a relaxing environment.
We have a zip wire, a pool table, toys and books but above all it is so rewarding to see them out in the Lawn Field climbing the big chestnut tree, running around, talking to our resident pony Cilla Black, helping us feeding the hens and ducks, collecting eggs or up exploring the big oak wood. This is Nature's playground.
Don't forget to pack your s'more ingredients. Marshmallows, a chocolate bar with squares, digestive or Rich Tea biscuits, sticks for toasting the marshmallows. The children will never forget the experience of toasting the gooey marshmallows and then squishing them between the biscuits with the chocolate melting in the middle.
Many families will bring along a guitar and have a sing song or tell ghost stories or simply look at the stars while relaxing by the campfire. Memories made for life!
Rathwood
Head to Rathwood where you will find retail shops, a woodland walk, a restaurant, a maze of Ireland, a children's train to a circus tent hosting many performances and much more.
Altamont Gardens
By the Slaney River, Altamont is an easy option, or Mangans Loop is a walk up a beautiful Mountain.
Huntington Castle
is also within 10 minutes drive and has lots to offer so you will never have a shortage of things to do in the area.
The Chocolate Garden
Ice-cream and chocolate making workshops. Coffee shop and playground (5 minutes' drive from the farm)