About Us
The Old Forge Glamping was started in 2013 and is owned and run by Belinda and Lorcan Carpenter, who left city life in Dublin returning to the picturesque Wicklow countryside. With their combined love of the great outdoors, restoring old farm buildings and hospitality, they set about creating a unique eco-friendly glamping destination on their family's old Georgian farm property.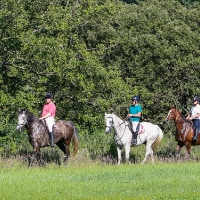 Featured in the Irish Independent as one of Ireland's Top Equestrian Holiday venues.
What makes The Old Forge Glamping so unique?
Today The Old Forge Glamping hosts up to 23 guests at a time, featuring a Log Cabin (sleeps up to 5), a Shepard's Hut (sleeps 2) as well as a 3 Yurts (each Yurt sleeps up to 4) and a Safari Tent (sleeps up to 4). 
The venue offers a unique combination of glamping accommodation as well as an optional  'bring your horse on holiday' experience riding along the scenic 8km Munny Trail. The venue is ideal for both horsey and non-horsey guests alike, who enjoy time in nature and want an authentic glamping experience in a beautiful setting. Whether a group of family, friends or colleagues, our glamping venue offers something special for everyone. 
A Sustainable Glamping Venue
The venue is both eco-friendly and through the various farm building conversions, we have created several unique living spaces using natural and traditional materials and building techniques. We love animals and have created a home with ponies, horses, ducks, hens, cats and dogs. We also have a passion for planting trees and growing organic fruit, vegetables and herbs, which in turn supports the natural bees and insect life on the farm. 
Nestled into a naturally wooded site with extensive views of the Wicklow mountains, the glampsite has been kept as natural and eco-friendly as possible. This offers an authentic 'close-to-nature' experience. Sheep, horses, ponies, hens and ducks all graze nearby while you look out over some of Wicklow's most breathtaking scenery. 
Why our customers choose us?
At The Old Forge Glamping, our values are all about community, local heritage, caring for the natural environment and creating unforgettable memories for our guests throughout the year!
Google Reviews from happy customers!
"A wonderful experience with horses and friends. A warm welcome from Belinda and Lorcan. The scenery on ride outs are stunning. Well worth it."   
5 Star Google Review by Claire. L – ★★★★★
"We loved our little trip to the old forge. The hosts were great and the site is really well laid out and equipped. We visited with 2 families (and kids) and everyone had a great time. We had bbqs, camp fires, walks in the woods and slept like logs in the yurts!"
5 Star Google Review by Cathal. M – ★★★★★
"Stayed here with a group of friends after completing the 4 peaks challenge. We couldn't have asked for a better end to an amazing weekend. The grounds are stunning, the yurts are cosy and super comfortable. The various outdoor seating areas and bbq area are ideal for dining and having a few drinks around the fire. The bathroom/kitchen/living area have everything you could need and are beautifully rustic. Have already recommended to friends and family. Definitely will be retuning! Thank you Belinda" 
5 Star Google Review by David. H – ★★★★★
Walking in the Area
The Old Forge Glamping is set on the famous hiking trails of the Wicklow Way. There are also numerous beautiful walks along the signposted trail on the farm.
If you follow the yellow arrows you will hike on the farm for an hour with stunning views over Lugnaquilla and Mount Leinster.
If you follow the red arrows you will hike for approximately 2.5 hours taking in a Motte and Bailey, an erratic stone deposit from the ice age, a 18th century derelict police barracks, which saw significant activity during the 1798 rebellion, the memorial stone of Christabel and Peter Bielenberg, Christmas trees, the ancient oak wood and plenty of native wildlife. 
Restaurants
Dinner
Sharoe Bistro Clonegal
Highly recommend but pre-booking a must. Stephanie 053 937 5636
Directions: Out gate left and through x road. Left at T junction. Right at T junction. Left at Blacklion xroads. Straight til you hit the main road then left into Clonegal Village. Upon entering Village turn left passed Huntington Castle and Sharo is located on your right hand side.
Mount Wolsely Hotel
Tullow Bar and Restaurant and Spa – 059 918 0100
Riverbank Tullow
059 915 2944 or Macreddin Village Aughrim 040236444
Take Away Pizza – Benny's
059 915 1885
Restaurants
Lunchtime
Thrive Cafe Tullow
Rathwood
Tinahely Farm Shop
Afternoon Tea
The Chocolate Garden of Ireland
Pre-Dinner Pub Drink
The Dying Cow and Crablane
Entertainment/ Fun days out
Rathwood Train and music events – Patrick Keogh 059 915 6285
Chocolate Garden of Ireland Chocolate making workshops – Mary and Jim – 059 648 1999
Huntington Castle – Clonegal – Alex – 053 937 7160
Altamont Gardens – Ballon – Robert – 059 915 9444
Clara Lara Funpark – Rathdrum – 040 446 161
Mangans Loop or Tomnafinogue Woods Walking/Hiking – Wicklow Way Walk from the farm here
Beaches
Ballymoney Beach near Gorey