About Us
Nestled into a naturally wooded site with extensive views of the Wicklow mountains, our Glampsite has been kept as natural and eco friendly as possible. This gives you a real close-to-nature experience. Sheep, horses, ponies, hens and ducks all graze nearby while you look out over our breathtaking scenery.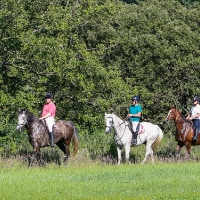 Featured in the Irish Independent as one of Ireland's Top Equestrian Holiday venues.
We are located on the Wicklow Way Walk which offers some of Ireland's most magnificent hillwalking and nature watching opportunities.
As The Old Forge Glamping is set on the Wicklow Way Walk. there are numerous beautiful walks from the farm. If you follow the yellow arrows you will hike on the farm for an hour with stunning views over Lugnaquilla and Mount Leinster. If you follow the red arrows you will hike for approximately 2.5 hours taking in a Motte and Bailey, an erratic stone deposit from the ice age, a 18th century police barracks which saw significant actions during the 1798 rebellion, the memorial stone of Christabel and Peter Bielenberg, Christmas trees, the oak wood and much wildlife.
If you are interested in foraging you will love coming across crab apple trees, wild mushrooms, watercress, Angelica, blackberries, wild garlic, elderflower, dandelions, sloes, elderberries, rosehips, sweet chestnuts and much more. In addition to this you can stop off in the Crablane Pub which is just a 10 minute walk from the red trail.
Other hikes from the farm include Moylisha Hill which is the home of Leaba Na Sidhe or 'The bed of the fairies', a megalithic wedge tombs and one of only three on the east coast of Ireland.
Restaurants
Dinner
Sharoe Bistro Clonegal
Highly recommend but pre-booking a must. Stephanie 053 937 5636
Directions: Out gate left and through x road. Left at T junction. Right at T junction. Left at Blacklion xroads. Straight til you hit the main road then left into Clonegal Village. Upon entering Village turn left passed Huntington Castle and Sharo is located on your right hand side.
Mount Wolsely Hotel
Tullow Bar and Restaurant and Spa – 059 918 0100
Riverbank Tullow
059 915 2944 or Macreddin Village Aughrim 040236444
Take Away Pizza – Benny's
059 915 1885
Restaurants
Lunchtime
Thrive Cafe Tullow
Rathwood
Tinahely Farm Shop
Afternoon Tea
The Chocolate Garden of Ireland
Pre-Dinner Pub Drink
The Dying Cow and Crablane
Entertainment/ Fun days out
Rathwood Train and music events – Patrick Keogh 059 915 6285
Chocolate Garden of Ireland Chocolate making workshops – Mary and Jim – 059 648 1999
Huntington Castle – Clonegal – Alex – 053 937 7160
Altamont Gardens – Ballon – Robert – 059 915 9444
Clara Lara Funpark – Rathdrum – 040 446 161
Mangans Loop or Tomnafinogue Woods Walking/Hiking – Wicklow Way Walk from the farm here
Beaches
Ballymoney Beach near Gorey