About Us
Nestled into a naturally wooded site with extensive views of the Wicklow mountains, our Glampsite has been kept as natural and eco friendly as possible. This gives you a real close-to-nature experience. Sheep, horses, ponies, hens and ducks all graze nearby while you look out over our breathtaking scenery.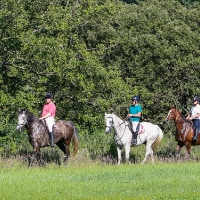 Featured in the Irish Independent as one of Ireland's Top Equestrian Holiday venues.
We are located on the Wicklow Way Walk which offers some of Ireland's most magnificent hillwalking and nature watching opportunities.
Both Christabel and Peter Bielenberg were opposed to Nazism and following Hitler's rise to power in 1933, participated in anti-Nazi activities. Peter Bielenberg was a close friend of Adam von Trott zu Solz, who was involved in the 20 July Plot against Hitler of 1944, and as a result of his suspect political views and this close association with Trott, Bielenberg was arrested, interrogated, and imprisoned in Ravensbrück concentration camp following the failure of the plot.
In an effort to secure his release, Christabel Bielenberg asked to be interviewed by the Gestapo to convince them of her and her husband's political naivety and innocence. She was interviewed by SS-Sturmbannführer Herbert Lange. She was successful and Bielenberg was released to a punishment unit but mistakenly allowed leave before joining it. He managed to slip away and remained in hiding near his family until the war ended.
After the war, she returned to Britain with her children, later visiting Germany as a foreign correspondent for The Observer. In 1948, the family settled in Tullow, County Carlow, Ireland, buying a dilapidated farm called "Munny House", which they transformed into a commercial success. As well as writing her autobiography she became involved with the Irish Peace Marches of the 1970s and lectured in Germany. She was made a Commander of the German Federal Order of Merit and was also awarded a Gold Medal of Merit by the European Parliament.
Her experiences during the Second World War were made into the BBC television drama serial Christabel (1988), adapted from her memoir by Dennis Potter. Elizabeth Hurley starred in the title role. In 1974 Christabel described her experiences of attempting to shelter Jews hiding from persecution in the television series The World at War.
Her eldest son and his wife moved into Munny subsequently and further progressed the farm to what it is today, a tillage, christmas tree and sheep farm.
Now Lorcan and Belinda live in a barn conversion at Munny with their eldest daughter and twins. The barn conversion was featured in RTE's Great House Revival Show with Hugh Wallace, who helped steer them in the right direction when it came to making sure to use the correct materials. They love animals and have created a home with ponies, horses, donkeys, ducks, hens, cats and dogs. They also have a passion for planting trees and growing organic fruit, vegetables and herbs.
As we are a family run business, we are on hand to help with local knowledge and to provide you with as best a glamping experience as possible.
If it's activities you are looking for, head to Rathwood where you will find retail shops, a woodland walk, a restaurant, a maze of Ireland, a children's train to a circus tent hosting many performances and much more. Alternatively, go next door to The Chocolate Garden where you will find chocolate workshops. Mangan's Loop is a walk up a beautiful mountain or choose Altamont Gardens by the Slaney River for the easier option. Huntington Castle is also within 10 minutes drive and has lots to offer so you will never have a shortage of things to do in the area.
The Perfect Family Trip
Our glamping venue is ideal for a large group of family celebrating time together for a birthday or reunion. Sleeping up to 30 people we have both outdoor and indoor areas to hang out with a large gathering. Our bbq's are suitable for cooking for up to 50 people at a time.
We can recommend the following for your couple of days stay:
Arrive on the first evening, settle in for a bbq and s'mores for dessert. Let the kids soak up nature's playground in the woods, play on the 25m zip wire, chill in the pool and games room or climb the many mature trees in the Lawn Field.
Wake up and take a shower in our farmyard electric shower or solar shower up at the Old Forge building at the campsite. Indulge yourselves in a delicious breakfast at the sunny tractor yard where the camping kitchen overlooks the picturesque Wicklow hills and Lugnaquilla. Head off to either Altamont Gardens for stroll, visit Tinahely Farm Shop for wholesome food and playbarn for kids before a walk in Tomnafinogue Woods or else visit Huntington Castle for a lovely walk around the grounds, a castle tour and playground. All of these options are within a 15 minute drive.
Arrive back at the glamping and relax for the evening. On day two we suggest a local visit to Rathwood with its giant Maze of Ireland, train rides to the open top tent, shops, a restaurant and much more. If you have time, also call into the Chocolate Garden of Ireland next door, the ultimate chocolate making workshop for kids. Otherwise enjoy one of our many walks from the farm.
Please don't hesitate to ask us for any other suggestions of what to do in the area and we will be more than happy to help as we have three children of our own and love bringing them to fun places too!
Restaurants
Dinner
Sharoe Bistro Clonegal
Highly recommend but pre-booking a must. Stephanie 053 937 5636
Directions: Out gate left and through x road. Left at T junction. Right at T junction. Left at Blacklion xroads. Straight til you hit the main road then left into Clonegal Village. Upon entering Village turn left passed Huntington Castle and Sharo is located on your right hand side.
Mount Wolsely Hotel
Tullow Bar and Restaurant and Spa – 059 918 0100
Riverbank Tullow
059 915 2944 or Macreddin Village Aughrim 040236444
Take Away Pizza – Benny's
059 915 1885
Restaurants
Lunchtime
Thrive Cafe Tullow
Rathwood
Tinahely Farm Shop
Afternoon Tea
The Chocolate Garden of Ireland
Pre-Dinner Pub Drink
The Dying Cow and Crablane
Entertainment/ Fun days out
Rathwood Train and music events – Patrick Keogh 059 915 6285
Chocolate Garden of Ireland Chocolate making workshops – Mary and Jim – 059 648 1999
Huntington Castle – Clonegal – Alex – 053 937 7160
Altamont Gardens – Ballon – Robert – 059 915 9444
Clara Lara Funpark – Rathdrum – 040 446 161
Mangans Loop or Tomnafinogue Woods Walking/Hiking – Wicklow Way Walk from the farm here
Beaches
Ballymoney Beach near Gorey