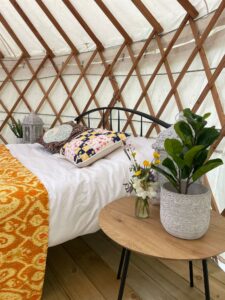 Family Glamping Wicklow
SCHOOLS ARE OUT!
School holidays are here. There is so much nostalgia around camping but not all of us want the hassle of putting up a tent and packing our cars to the bring with everything one could possibly need for glamping. We have done the hard work for you this school holiday and we provide all you need right down to cooking utensils and the wood for your campfire! Arrive down to this picturesque area and take in some of the fun family friendly stuff in the area such as Rathwood, The Chocolate Garden of Ireland and Huntington Castle. Then come back to your cosy yurt and relax over a bbq and campfire toasting marshmallows or smores. After you have settled your little ones to sleep comes the relaxing part of the evening where you can look out at the stars while keeping warm by the campfire.
Thinking of something special and think about playing cards or board games here, letting your children run around in a safe farm environment. There is peace and tranquillity here like no other place. The birdlife and nature that surrounds the farm is so special for your children to learn about and we pride ourselves on being sustainable and climatically aware.
For fun glamping in Wicklow the Old Forge Glamping is situated just over an hour from Dublin and is a hugely picturesque area with plenty to do on site and within a short drive. We also have Ballymoney Beach within a 35 minute drive.
If you are looking to create beautiful memories for your children and you this summer get in touch as we are taking bookings on www.theoldforgeglamping.ie.